New! Read our new article on how to design smart sorting tasks in Behavior Research Methods. [PDF] [SUMMARY]
Flexible card sorting,
in minutes.
Administer your research participants fully featured card sorting, with a few simple clicks.
The interface is highly flexible, and customizable.
Whether it is allowing participants to use the cards more than once, using pictures instead of words, or asking participants to name the piles, cardsorting.net offers an array of customization options. Use your own logo, randomize cards, and even custom instructions, all via an administrative interface.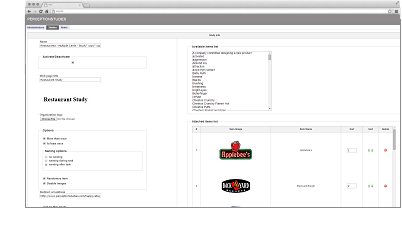 The study of human cognition often involves how individuals categorize the world around them. Cardsorting.net, with the multiple cards sorting task, provides the rigor and flexibility to investigate simple and complex cognitive models.
If you're going to need a sorting task for your paper, you should use cardsorting.net. It's easy to use and setup, it has all the features and options you need (e.g., linking with Qualtrics), and Simon is responsive when problems arise.
No cost, no commitments. Just a little bit of time to set it up.
GET STARTED.
Our Users
Here's a partial list of universities where researchers have used our tools.